Sep 13, 2014, 3:21 PM by Tory Tolton
Our cross-country workhorse N2608R took myself and a friend to Astoria for a long-anticipated "buoy 10" salmon fishing trip on the Columbia River back in August. It was an easy one-hour and fifteen-minute flight down, and the weather was phenomenal – much to my chagrin as I was hoping for some actual IFRs to put our new heading indicator through its paces.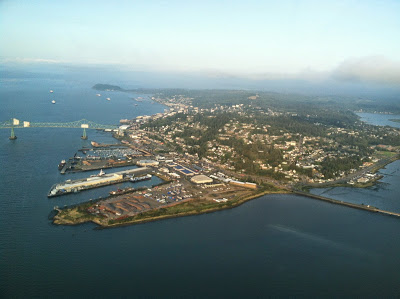 The ramp has many open transient parking spots with chains for tie-downs. Parking fees are $5 per overnight, and the cab ride to town runs about $15.
The return flight after a full day of fishing was just as incredible, with a VFR departure over the city and the bridge, picking up our IFR clearance on climbout. We managed to hit the only IMC in all of Western Washington for all of about 30 seconds, my first actual logged in a long time. Arrival back at Paine was just after sunset.By the end of the trip my friend couldn't imagine driving again in the future. It sounds like we might have just started a new annual tradition.
Check out our approach to KAST runway: